The following interview was originally published in Benji Knewman 4.
Skilla Pinnis-Rikarde was born during the Second World War in a family of influential Latvian artists. Her mother Elvīra was a sculptor and, like other artists of her generation, lived in Paris of the 1930s and was an active participant in the local art scene. Skilla's father, painter Rūdolfs Pinnis, also had gone to Paris to educate himself, and Skilla's parents met there.
In 1939, as the Second World War was breaking out, they happened to be in Latvia, which was soon – in 1940 – to be occupied by the Soviet army. They stayed for an unexpectedly long time. Skilla was born in 1943. After the war, Rūdolfs became one of the most important Soviet Latvian artists, working side by side with Elvīra. Yet in communist Latvia, an artistic life was wrought with problems. In the mid-1950s, Rūdolfs was expelled from the Artists' Union of the Latvian SSR; in 1973, his exhibition was closed the same day it opened. Despite all this, he managed to hold twenty one-man shows both in Latvia and abroad.
In her turn, Skilla became a film director and actively participated in the Latvian art scene of the late 1980s. It was a time when Latvian artists, fashion designers, writers, journalists and documentary film makers experienced a collective creative burst as they helped bring about Latvia's independence from the communist Soviet Union.
Twenty-five years have passed. Skilla lives in Riga, in a courtyard building in the historical centre of the city and is still very much part of its cultural life, having no intention of stopping at what she has already achieved.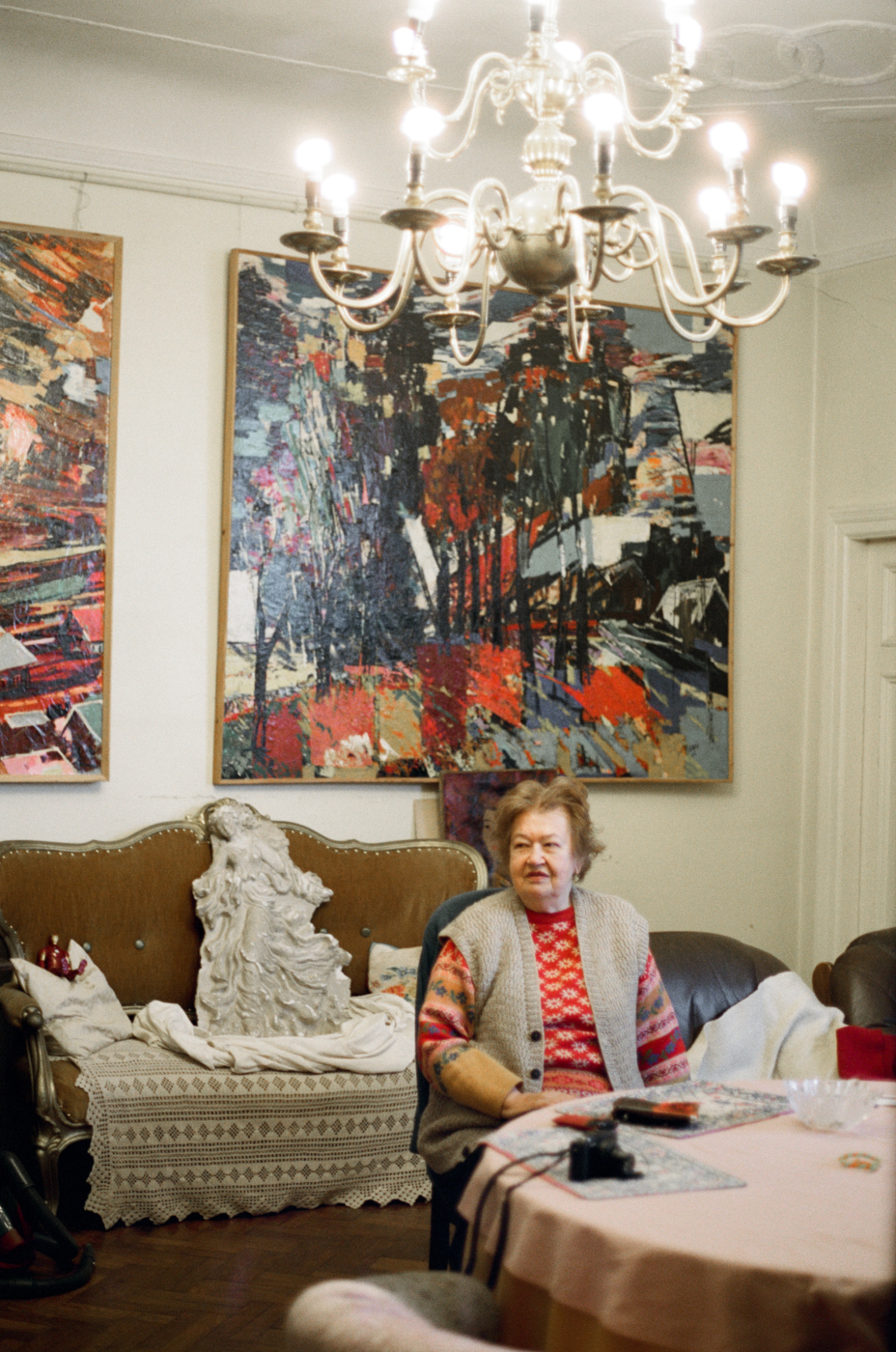 In one of the monographs about your father, you included his quotes. One was about peace: "Peaceful well-being is an artist's enemy."
Peaceful well-being is philistinism. It is not inner peace. One can have inner peace even when people are murdered and shot all around you. If you are withdrawn from the world and have inner peace, you can create.
Soviet people had problems with well-being. What was your childhood like?
It was terrible unwell-being. Particularly right after the war. I was born in 1943, and the years immediately following the war were horrendous. Back then, every day was a bit heady! First of all, you couldn't even buy food, never mind anything else. Artists like my father were constantly disparaged. The institutionalised communist ideologues regularly checked whether one's art followed the principles of socialist realism. My father, of course, lamented not getting back to Paris. That was the theme of my childhood. They both were so crushed! They left behind a fully furnished apartment with works of art and Parisian friends. In 1939, they only came to Latvia to visit their parents. Normal people, like my parents who were not involved in politics, could not imagine that the entire world order would change! Soon, Latvia was occupied by the Soviet Union and subsequently, by Nazi Germany. Father always talked about the Paris cafés: "La Dome was such a wonderful place where we sat day and night talking about art." He named all these artists and told me how good everyone felt in Paris in the 1930s. In other words, it was their heartache. Hearing about it all, I automatically internalised this feeling. As for Riga cafés, father was always dismissive: "They don't even come close to the ones in Paris!" Only when Putnu dārzs opened was he able to somewhat accept it. The future Latvian intelligentsia – the young generation of the 1960s, my own – began going there. The tradition to go to a café and talk about intellectual matters has remained. I too sometimes go to a café with my friends.
What do you like to remember?
I don't lose myself in memories. I only make the effort to remember where this or that painting of my father's is located, if someone needs something particular.
I also don't understand those who talk about their youth as something special. For me, it was very different – there was so much trouble when I was young!
I could not pick up and leave for Paris when I wanted, could I? In 1985, I went abroad for the first time. Even then it was not so easy: one needed someone at the other end to write a special letter of invitation. That person had to guarantee our livelihood and shelter to me and my father. "I cannot die before I have taken you to Paris and shown you the places where we were happy," father said. I replied: "Of course, that's how it has to be." And he did all within his power to bring it all about. So we lived in Paris for three months. I got to know the city very well. We went to exhibitions, visited people.
The pictures from your Paris trip reminded me of the French New Wave movie Jules et Jim.
Yes, I know the movie. But, you know, there's this interesting thing about movies. For thirty years, I worked as a film director. When I stopped working at Telefilma Rīga, I lost all interest in movies. Now I am annoyed with anything having to do with interpretation – why is he [the director] forcing his "vision" down my throat? I'm not interested; I have my own vision.
What is this drawing? (I'm looking at one of the many postcards on Skilla's bookshelf.)
Oh, that's French sculptor Aristide Maillol. He also has such simple drawings. This is Daphnis and Chloe. I have a number of Maillol's sculptures and drawings. I am very fond of Picasso (from some special cabinet, Skilla produces a folder full of postcards of Picasso's works). You know these periods of his, the pink and the blue? These are acceptable to all, they are beautiful and easy to understand. But the late period – oh my God, what's going on there! – that's how I thought about it for a time. Bodies all cut up, women's faces deformed, two noses… Then I began to understand that he was depicting movement in a person's body. The many lines emphasise a vibrating movement! And he is showing it in a static painting. Now I like these muddled works very much.
How did you begin collecting postcards?
I inherited a substantial postcard collection quite by accident. First of all, father corresponded with all kinds of creative people – writers, artists. Usually they sent beautiful art postcards. Second, I had an interesting relative. As a young woman, she had travelled a lot – Tunisia, Algeria, France. She too liked postcards and she had bought them in all corners of the world. In her travels, she made many friends and she asked them to send postcards. When she died, I inherited a large box with her postcards – a nest egg for my collection. Later, my husband and I also travelled much and brought home all kinds of different postcards.
There was another circumstance, social in nature. With the Telefilma people, we made films for Latvian Television, and these were all different kinds.
Commissions and money came from all over – even from Moscow. So the films had two versions, one for Latvia and the other one for Moscow.
We were a very strong and creative group. In 1992, however, shortly after Latvia regained independence, the television bosses took a dislike to our freethinking group. Finally we were reorganised and, a short time later, fired. I too lost my job. Then, all this tinkering with postcards let me keep my inner peace.
How do you obtain your postcards these days?
Some through Postcrossing.com. There I have about sixty correspondents, and in the course of a month, I exchange postcards with all of them. I also visit antique shops and other little shops. If I am lucky and have got my hands on a couple of dozen cards, I come home very happy. But it rarely happens. My family and relatives also take part in this. When they go somewhere, they always bring me some cards from museums.  There are lots of them in museums.
What do you write on postcards and is it in any way important?
Usually, it's just two or three sentences. Others write more, but I am not interested in what they have to say, I am not interested in chatting.
I am interested in the visual and not in long conversations. I have a clearly drawn line – art only.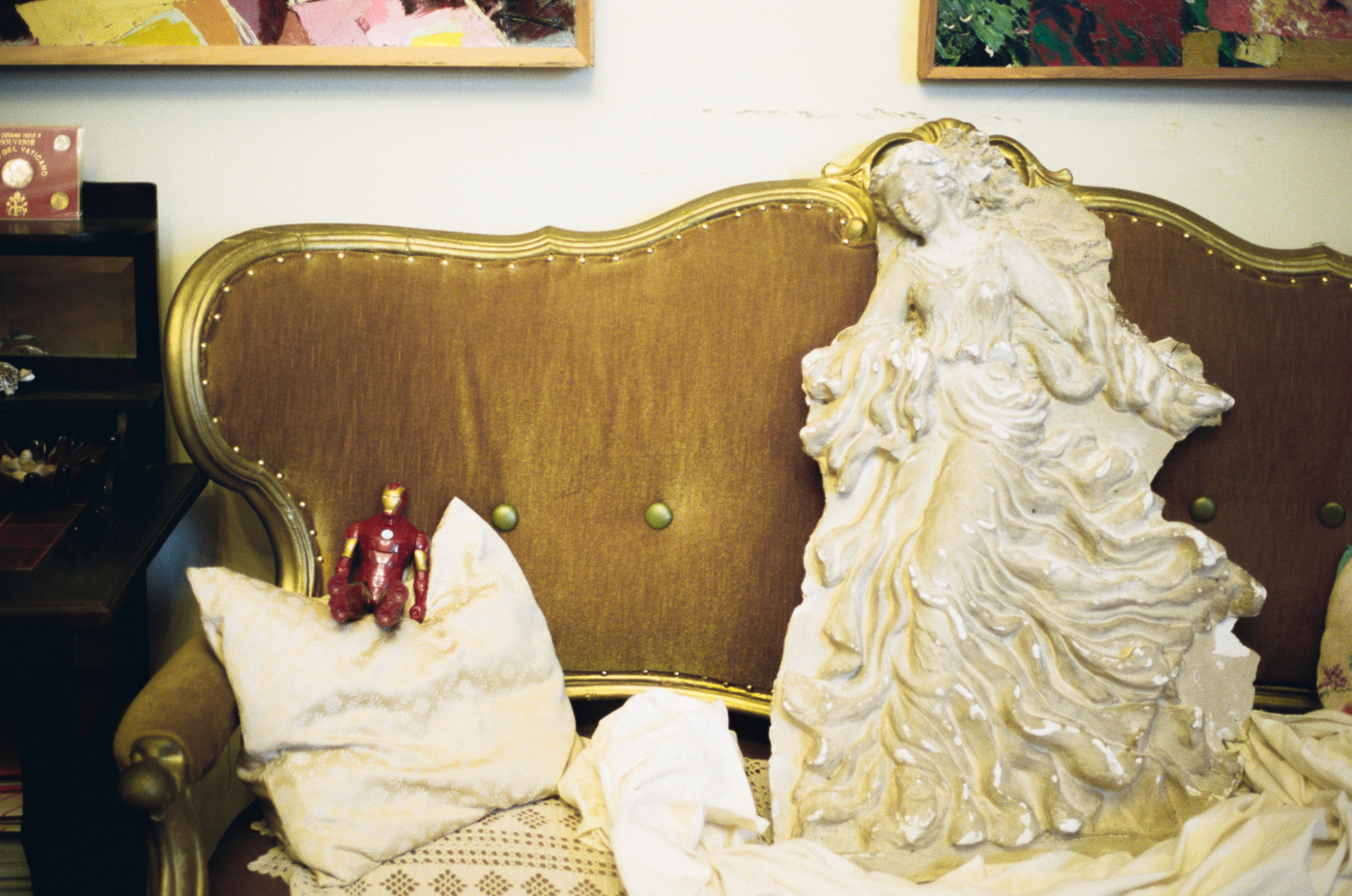 I only collect art postcards. Art reproductions. I have been involved in it for twenty years. Do you see these folders? (The walls of the room that obviously serves as Skilla's study and bedroom are covered with paintings. Under one beautiful oil painting of a colourful forest scene, there is a bed; a cabinet with various art objects is by another wall and the rest of the room is filled with cabinets with files full of postcards.) Over one hundred! I thought how to organise and structure everything myself. You need a system, otherwise it's crazy. My system is rather strict – everything is organised by genre and then by the particular maître – you know, by classic. Here are my beloved French. And then I have organised the collection by theme – music making, for instance. Then there are animals and still lives. Latvians are separated off somewhat, but that's wrong. They should have been placed in the global context.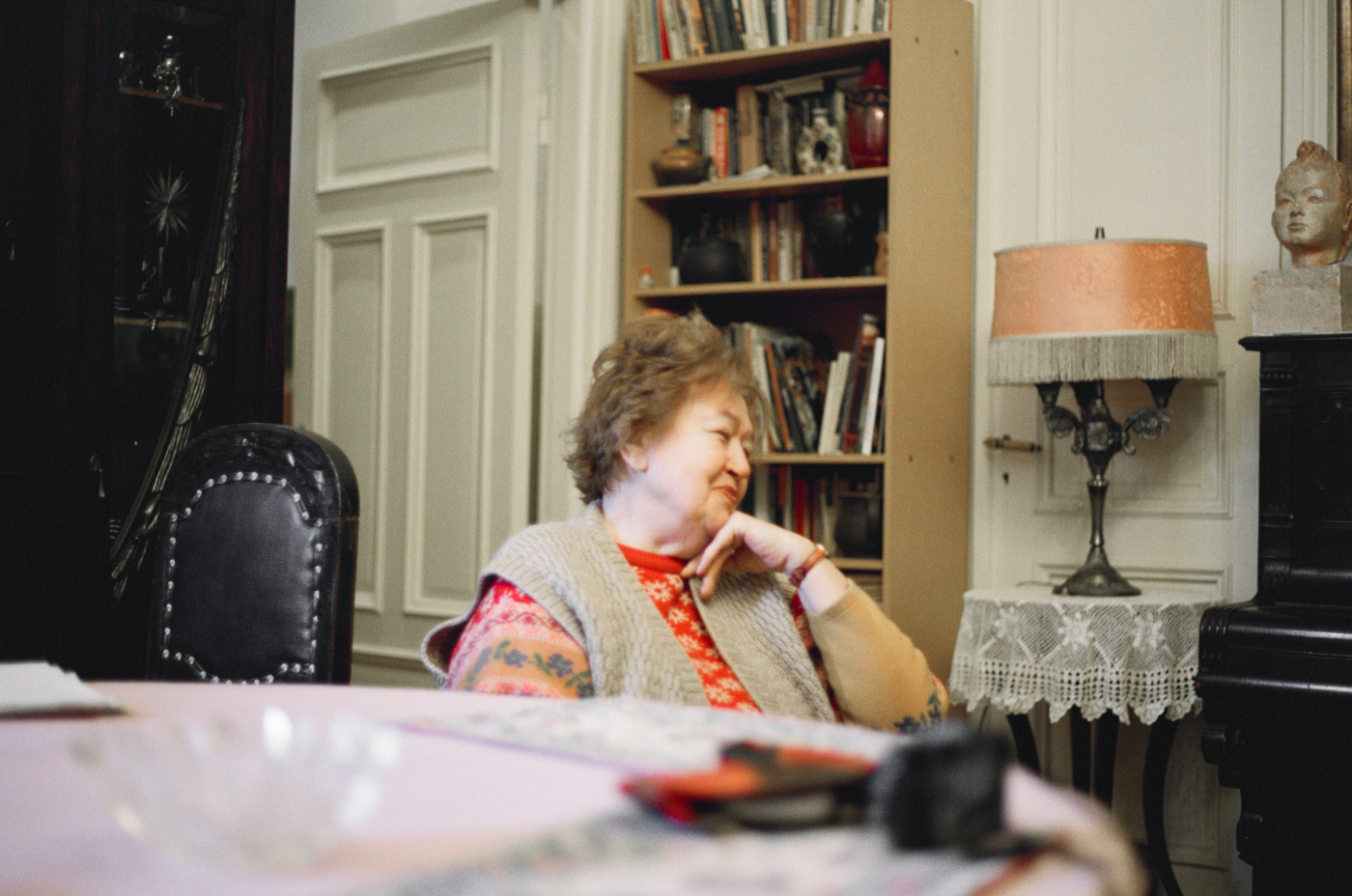 What's so romantic about postcards?
To me it's the entirety of it. I have thirty thousand of them! To use a simile – it's like a garden that I have to tend, water and supplement, whose paths I should walk to return home again.
In older postcards with cityscapes, I am amazed at the great difference in feeling, compared to what is seen in postcards with urban scenes nowadays. How did photographers reach that particular feeling of peace? It's so rare nowadays. 
Well, before people were not as busy as they are now. Their heads were not full of all the craziness that's happening all around us!
But the environment is the same, including the buildings. Is the photographer nervous?
Yes, yes. After all, the resulting work of art depends on him! If you are in harmony with yourself and have a feeling for what you want to create, it all just appears, grows and, with the help of your fingers, materialises into a work of art. If you're stressed out, if you have problems all the time, if you have to fight with something or other…
The artist is simply suffering and ends up with all these scribble-scrabbles.
Do you have your favourite postcards?
Yes, of course! But I doubt that I can find them now, no, I doubt it. For instance, by the bed – there you see "Mother Reclining" by Gustav Klimt. And here is Saint Mary from a church in Vilnius.
And this is a figurine of the Virgin Mary?
We are not very orthodox. I prefer thinking about it instead of going to church and listening to what the priests have to say. But Mary is here for a reason. When we were in Paris in 1985, the first place my father and I visited was Notre Dame de Paris. There I felt Saint Mary talk to me – she addressed me. Just there, in that space. Entering that church, you enter a completely different world; it's something totally independent and special – it's like a cocoon. You are no longer you. Since that time, Mary has always helped me in different ways. Actually, we didn't go with a religious intention – it was just the utilitarian curiosity of tourists. I can see that you do not believe me. It was not Paris, it was not Riga – temporal dimensions did not exist there.
It was an interesting age at which you went to Paris from the Soviet Union, which was already crumbling at the time.
Yes, at that time my mind was already mature. There was still much ahead, but you're also beginning to understand things. But even now I have much ahead of me. Everything is still in the future. That's what old age is for – for getting all that wisdom.
In one's youth, one has to work. Old age is the time to reach conclusions.
What else keeps you busy these days?
I take care of my big house, of my archives. I have a lot of photographs. I also have to take care of the archives containing my father and mother's works of art. Every now and then there are exhibitions where galleries want to exhibit works by either of them. Mother's works will soon be exhibited here in Riga. I also do gymnastics, help my children and grandchildren and go to cafés with my friends.
There is so much I would like to ask, but perhaps there is something you'd like to say? (A moment later, we are in another room, the living-room with a fireplace of blue glazed tile; here the walls and cabinets are adorned with paintings by Skilla's father and sculptures by her mother.)
The first thing that I really wanted to talk about was the paintings in my apartment. There was a time when the paintings had to be taken out of the apartment temporarily to have them evaluated and photographed. Can you imagine? All these walls became empty. And only then did I understand that the paintings have been providing me with energy – when they were not there, I felt great discomfort. I began to lose energy. I don't understand people who approach an interior designer with a request to furnish their apartment. It seems ridiculous: if you cannot do your own apartment and – God forbid! – ask someone else to do it, then something is wrong with your head.
The second thing is: every decade of life is different. I find that each subsequent decade for me is becoming better and more interesting. In my seventh decade, I find life so interesting and pleasant as never before. The best is definitely still ahead for me.